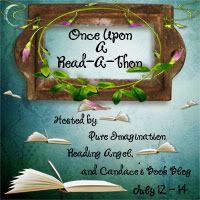 I'm planning on participating but I have to stay organized if I want to do this right. Especially if I have to do some other things (like, write, eat, sleep, etc.). Here's my schedule:
Wake up around 9 AM
9 AM- 9:30; Breakfast
9:30-11:30; Read
11:30-12PM; Lunch
12PM-3PM; Read
3PM-4PM; Work on school report.
4PM-5PM; Update in blog, check emails, etc.
5PM-8PM; Read
8PM-9PM; Write my daily word count.
9PM-1AM (if I don't fall asleep before that); Read
1AM-9AM; sleep
I plan on reading these books:
The Chocolate War (for school)
Tyger Tyger
Trickster's Girl
Antigona (for school Spanish, if I haven't finished it before this)
any others that I might find but those definitely.
I plan on finishing:
A Princess Of Landover
(if I don't finish it before Monday).