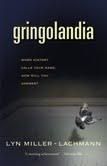 Though haunted by memories of his father's arrest in Pinochet's Chile,
Daniel Aguilar has made a new life for himself in the United
States--far from politics. But when his father is released, Daniel
sees what years of prison and torture have done. Trying to reach his
father, Daniel, along wth his "gringa" girlfriend, finds himself in
the democracy struggle of the country he thought he left behind.
Dan has lived with the memory of the night when his father was arrested and feeling like it was somehow his fault. Now, after years of trying to get him out of prison, Dan and his family reconnect with a father they don't know who is physically and emotionally tortured. The book, set on the 80's during Pinochet's rule of Chile, follows Dan, his girlfriend Courtney, and his family as they try to face the new challenge that is his father.
I was very exited to participate in my first blog tour so I thank everyone who is involved for giving me this great opportunity.
Okay, now onto the book. Overall, I liked the book. I liked the history, the characters, the premise, and the plot. But I talked to my Dad who also read it and I re evaluated my thoughts on it.
The story rang real all the way through it. Being a Latina myself, I found it easy to relate to the situation and the culture. The descriptions are sometimes graphic and the book is often ignited by horror and suspense. These elements I really liked and added to the overall story.
Now, something my father said about the characters made me rethink them a bit. Although they are generally believable and round, the characters do lack some depth. Some of their decisions I wasn't sure what motivated them. The pain of the father was seen but superficially touched. I would have preferred to have a description of his dreams before he woke up screaming. Dan's decisions sometimes seemed quick and I couldn't really see the motivation behind them.
My Dad thinks Courtney is the real MC but although I disagree, I think her character was the most thorough. You can see why she does what she does and the history behind it.
In once sentence:
Overall, it was a good book but it lacked some depth and development.
Plot: 5 stars
Characters: 3 stars
Writing: 4 stars
Overall Feeling: 4
Cover: 3
Average: 3.8