Graceling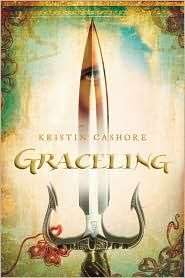 Katsa has been able to kill a man with her bare hands since she was eight--she's a Graceling, one of the rare people in her land born with an extreme skill. As niece of the king, she should be able to live a life of privilege, but Graced as she is with killing, she is forced to work as the king's thug.

When she first meets Prince Po, Graced with combat skills, Katsa has no hint of how her life is about to change. She never expects to become Po's friend. She never expects to learn a new truth about her own Grace--or about a terrible secret that lies hidden far away . . . a secret that could destroy all seven kingdoms with words alone.
from GoodReads
What can I say? Kristin's first novel has me breathtaking. Such strong characters! The novel sets in this fantastical new world, that, although it needs a little improving, is perfect. The action is non stop from the very beginning, literally. I found myself screaming because I couldn't believe what was happening and because I felt that I couldn't keep up with all the action. Such an adventure!
The only negative or constructive remark that I have is that the end, although amazing and satisfying, became a bit slow and dragged out. It should have been shorter and quicker. I can't say that I didn't love it, though! At the end, my heart ached with the thought of leaving behind these wonderful characters. I really wished the book would extend forever.
Now my Dad is wanting to read it, he was the first one to point it out to me! I have no doubt in my mind that it will satisfy him. This book is not for the fainthearted and The Hunger Games fans will love it!
In one sentence:
A fantastical adventure with romance that has no comparison.